Lithisault/Rokk

Species:
Lithium Pokémon
Type:
Steel
Ability:
Analytic/Rock Head
Creator:
Kinali
Original Scribble:
Dex Entry
---
The bodies of Lithisault are composed of about 83% lithium. They are lightweight due to their low density, but deceptively strong, allowing them to float and perform powerful ramming attacks against other Pokémon.
They are almost always found in caves. Because the lithium in their bodies is unstable, they change colour when exposed to moist air. Unfortunately, they are also highly flammable.
---
Additional images: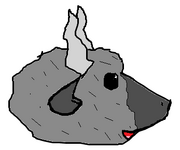 Community content is available under
CC-BY-SA
unless otherwise noted.